Reigna's Senior Art Exhibit and Senior Film Premiere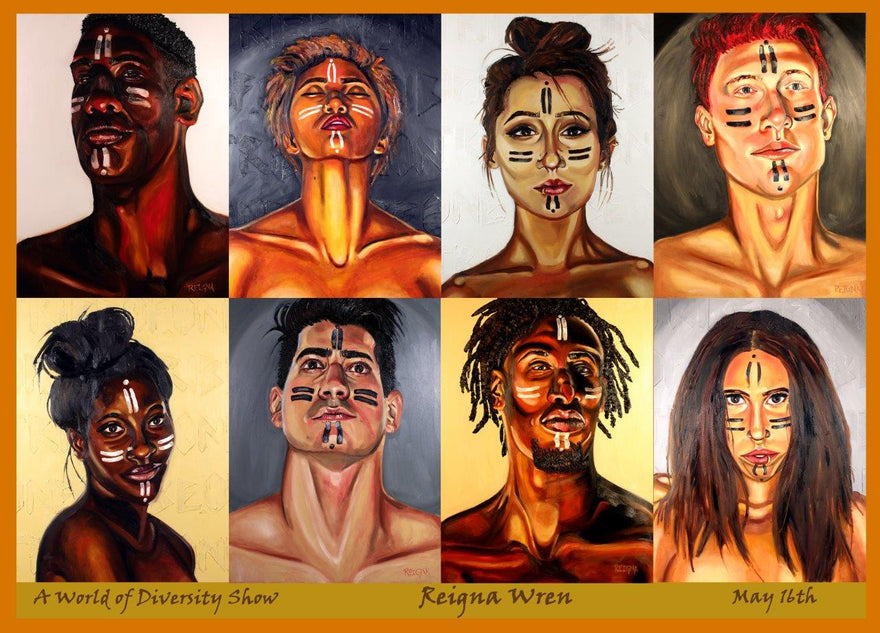 Reigna's Senior Art Exhibit and Senior Film Premiere was an extravaganza anticipated by many! It was an opportunity for her to exhibit her "Best of Works", to sell originals and prints. Most of all, it was an opportunity to show her entire "Tribe of One" series of oil paintings all at once! Reigna's supporters and her Let Art Reign fans turned out in a massive gathering for this show that was a culmination of her 4-years as a Visual Arts prime high school student at the George Washington Carver Center for Art &Technology. 
As the guests moved about taking in the array of paintings, they enjoyed the Chick-fil-A nuggets and the variety of sandwich spiral appetizers. They were especially intrigued by the cupcake tier that contained an assortment of delicious petite cupcakes flanked by a whimsical surprise of colorfully wrapped ladybug chocolate candies recognizing "Ladybug Productions", Reigna's production company for her award-winning films. 
From start to finish, the attendees were mesmerized by Reigna's award winning pieces of art and were thrilled to see them up close and personal. Countless discussions took place throughout the evening where guests identified their favorite pieces and eagerly posed for pictures with them. 
The crowd found this collaboration painting,"Rulers of a New Nation" to be absolutely awe-inspiring! Reigna Wren and Veronica Chen proved to be a dynamic duo in producing their massive oil painting that boldly depicts two young ladies of color in a confident, strident, authoritative, respectful way, overlooked by an owl symbolizing power and wisdom that each of these figures embody. Many guests found this original creation to be captivating and, truly something to behold as Reigna and Veronica flanked their impressive collaboration.  
The crowd practically turned into the paparazzi when they spotted the real life individuals with Reigna posing by their portraits. It was surreal to the guests as they eagerly compared each person to their painting. The conversations and excitement became quite vigorous.
Reigna was honored to have her parents and both sets of her grandparents in attendance.  All of them marveled over her expansive portfolio and were ecstatic and proud to observe just how much Reigna has grown and accomplished as an artist during her tenure in high school!
As the art exhibit came to a close, the Senior Film Premiere got underway.  Four of Reigna's films were screened at the film premiere.  They are "Tribe of One", "Regret", "Can You Tell" and "Poncho".
While in high school, Reigna was awarded an Honorable Mention through the White House Student Film Fest for "Tribe of One". Her documentary film, "Poncho" has been awarded a NAACP/ACT-SO national gold medal; screened in the Baltimore High School Film Festival; screened in the San Diego Black Film Festival; won 1st place documentary in the Baltimore County Public School Film Expo; screened under the Baltimore Youth Showcase at the Maryland Film Festival; and, it won a Scholastic Art & Writing regional gold key!  Additionally, her documentary film, "Can You Tell", was awarded a Scholastic Art & Writing regional gold key and, a NAACP/ACT-SO regional gold key.   
All of the Senior student filmmakers presented Mr. Khalid Ali, Carver's Film teacher with flowers as a gesture to show their great appreciation for his instruction, contribution to their development as filmmakers, and advocacy on their behalves to gain exposure for their films through premieres and screening contests. 
 After the close of the film premiere, Reigna posed in a picture with her cousins (Christine and her daughters, Courtney & Taylor) who are featured in the re-enactment scene of her documentary film, "Can You Tell?"  Also, Reigna saluted her friend, Sammie, who is the subject and star of "Can You Tell?" with a beautiful bouquet of flowers to express her gratitude to Sammie for her cooperation and effort with telling her story.
The back of the Let Art Reign tee shirt provided the best punctuation for THE perfect ending to a fantastic, successful, widely attended Senior Show that was enjoyed by all!  
---
Leave a comment