ACT-SO 2017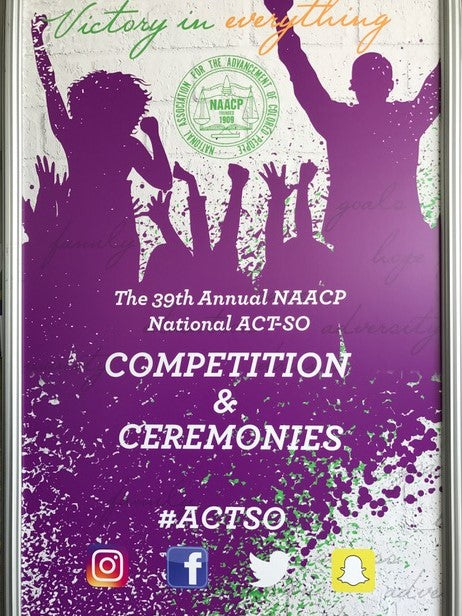 The national 2017 NAACP/ACT-SO competition was certainly a "VICTORY" for Reigna in her artistic journey as she won gold for her second year in a row!
The 2017 ACT-SO competition was hosted downtown Baltimore, the home of the NAACP and, Reigna's hometown, Baltimore, Maryland. For the opening night event, Reigna sported her tee-shirt that boasts "all things" Maryland as she represented the NAACP youth Baltimore County Branch. 
Reigna was honored to design the updated NAACP/ACT-SO banner for the Baltimore County Branch that she debuted and helped to carry in for the opening of the 2017 ACT-SO competition. Even though this is Reigna's last year to compete in the national competition, she is proud that this banner will serve the Baltimore County Branch well in the years to come!  
Reigna's oil painting portrait, "Big Brother - Alston" in her Tribe of One series of 8 oil paintings competed in the Visual Arts category of the ACT-SO competition.
The "VICTORY" came when Reigna won gold in 2017 in her other focus area of the arts, after having won a national gold medal the previous year for Film in the 2016 ACT-SO competition!  
Reigna's parents, both sets of grandparents and an entourage of relatives attended the 2017 national award ceremony in her hometown to cheer her on and, to celebrate her tremendous achievement in this competition and national recognition!  Between Film and Visual Arts, Reigna has competed in the NAACP/ACT-SO national competitions for years 2015 (Philadelphia, PA);  2016 (Cincinnati, OH); and 2017 (Baltimore, MD)! 
While Reigna was saddened that this competition marked the end of her tenure with the NAACP youth Baltimore County Branch and the ACT-SO competitions, she was happy to go out on a high note. For her final ACT-SO walk with her Mom, Reigna realized "VICTORY" in her dedication, diligence and talent in the arts!    
---
40 Responses
Leave a comment